Hironobu Sakaguchi
Jump to navigation
Jump to search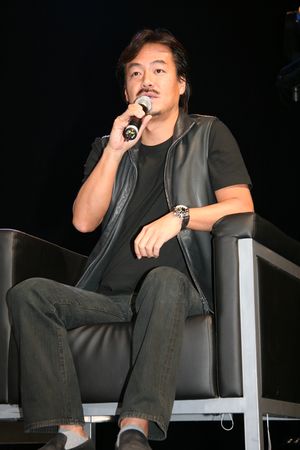 Hironobu Sakaguchi (坂口 博信, Sakaguchi Hironobu?) (born November 25, 1962) is a Japanese game designer, game director, and game producer. He is best known as the creator of the Final Fantasy series. Sakaguchi has had a long career in gaming with over 80 million units of video games sold worldwide. He left Square Enix and founded a studio called Mistwalker in 2004.
Sakaguchi was born in Hitachi, Ibaraki, Japan. He is a graduate student of Mito Senior High School. He went on to study electrical engineering while attending Yokohama National University, but dropped out of the university along with Hiromichi Tanaka mid-course in 1983.
On leaving the university, Sakaguchi became a part-time employee of Square. When Square became an independent company, he became a full-time employee as the Director of Planning and Development. The company's first games were very unsuccessful. Sakaguchi then decided to create his final work in the game industry with the rest of Square's money, and appropriately named it Final Fantasy, which he claimed, given Square's uncertain future at the time, was an ironic gesture. The game was released in Japan for the Nintendo Entertainment System on December 18, 1987, and was very successful across Japan.
Final Fantasy developed into a successful franchise, which spans from stand alone stories to spin-offs to direct sequels. The last Final Fantasy game he directed was Final Fantasy V, becoming the producer for future installments of the franchise. In 1995, he became President at Square USA, Inc. His final role as game producer was for Final Fantasy IX. He later went on to serve more as an executive producer of the series, as well as many of Square's other games.
Hironobu Sakaguchi became the third person inducted into the Academy of Interactive Arts and Sciences' Hall of Fame on April 5, 2000. His Hall of Fame status was given to him because of the tremendous number of video games he has sold and created.
Sakaguchi voluntarily stepped down from his post as an executive vice president at Square. This event also reduced Square's financial capital. Square later merged with its rival, the Enix Corporation, which led to the creation of Square Enix in 2003. Sakaguchi founded Mistwalker with the financial backing of Microsoft Game Studios.
Sakaguchi was a designer for the original version of Chrono Trigger. Many of the game developers appear in a special ending of Chrono Trigger. Each one is outfitted with their own dialogue, location, and sprite.
Hironobu Sakaguchi's Sprite in the Developer's Ending of Chrono Trigger.